What is a Georger?  Well, in our classroom each year (since 2008!!!), we all are Georgers!!  We are participating in an online project to track the flow of money in our economy.  Students bring in dollar bills.  We stamp them with the Where's George? stamp, record the serial number and series year, and then enter them into our Where's George? page.  Hopefully, as the weeks go by, we will see some of these bills resurface.  Be sure to visit the Where's George? site to learn more….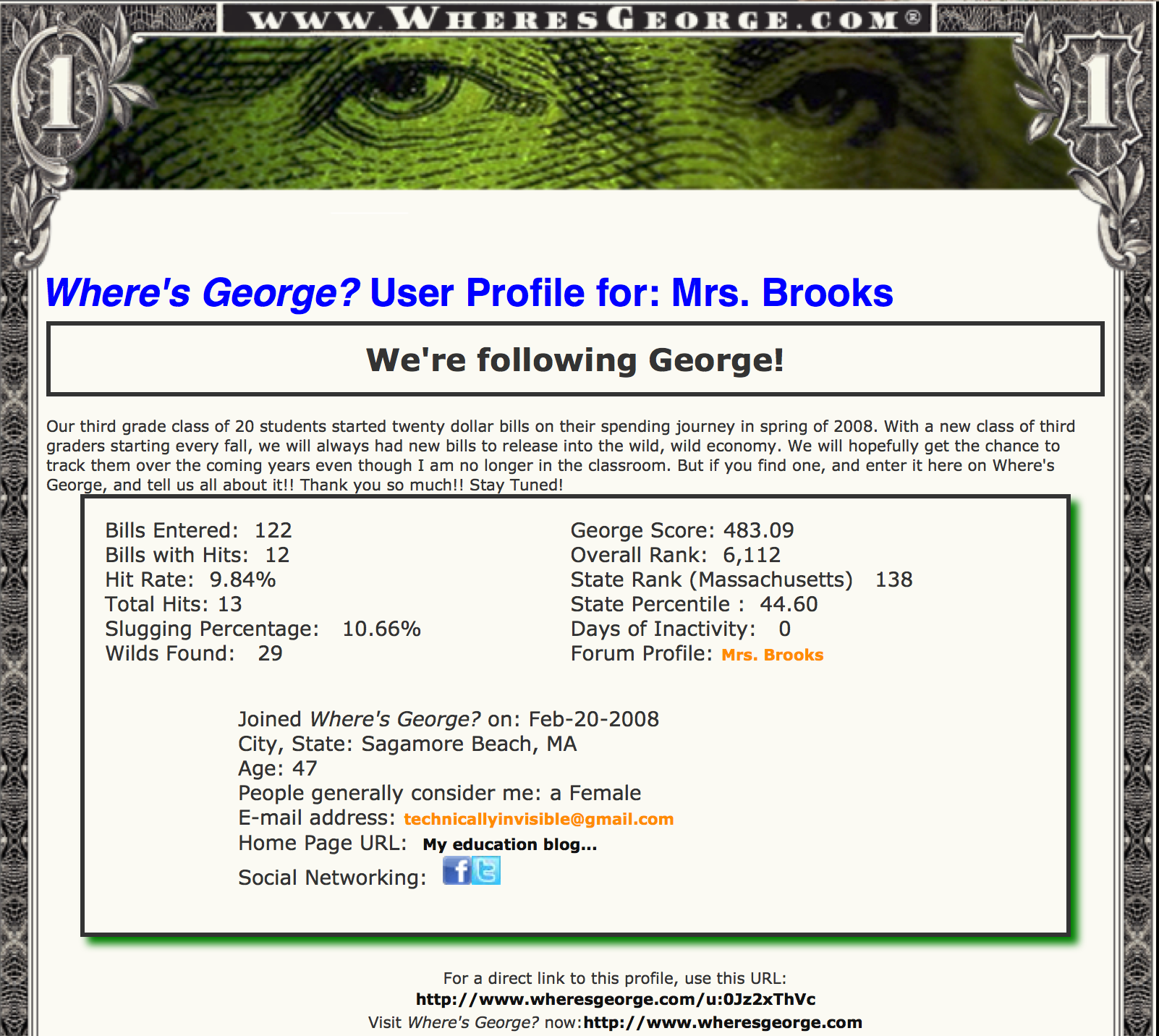 December 2, 2011:
We have two updates to add!
Mrs. Steele found a Where's George dollar and brought it in – we entered it and found it came from Springfield.
Elliot also brought in a bill, which he found – looks like this one was originally released from Fitchburg, MA, and then continued to Wappinger Falls, NY, and it finally ended up in the hands of Elliot.
January 27, 2012
Today, Trevor brought in a dollar bill his mom gave him.  We entered the bill, and later that night, we heard from the original Georger!  So FUN!!
"Hello Mrs. Brooks!

I am writing about your:  One dollar bill, Serial Number: K8356—5A Series: 2009 that you entered into Where's George?…

Here's a link to the bill: http://www.wheresgeorge.com/report.php?key=09026ff6fb8accae485e57b087cfc9b048e2190d8000fe51

Thanks for taking the time to enter this bill.  And thanks for leaving the note.  A short note always makes a hit more interesting.

Good luck with your project.  I was using this to teach my granddaughter local geography until her attention switched to boys.  Now I'm back to doing it alone.

Enjoy,

Tom (Packrat)
---
October 18, 2013:
This morning Mr. Brooks came home with a  Where's George dollar bill for me to enter, and I was glad he did! It reminded me that we need to get back to George-ing in the classroom! Almost all the bills we encounter are from New England, and this one is no exception… It's lots of fun and I hope my students enjoy tracking bills this year!!