I recently wanted to do some vacuuming in the living room. Well, actually I didn't WANT to, but as part of the process, I was moving shoes, rugs and other items out of my way.  When I went to move my 11th grader's backpack, I nearly threw my back out!  What was in there – rocks???  I unzipped his backpack to find his iPad, textbooks and several binders ranging in size from 1″ to 3″ along with some pencils and pens.  Later on, I asked him to put it on the scale. It weighed in at a hefty 25 pounds!!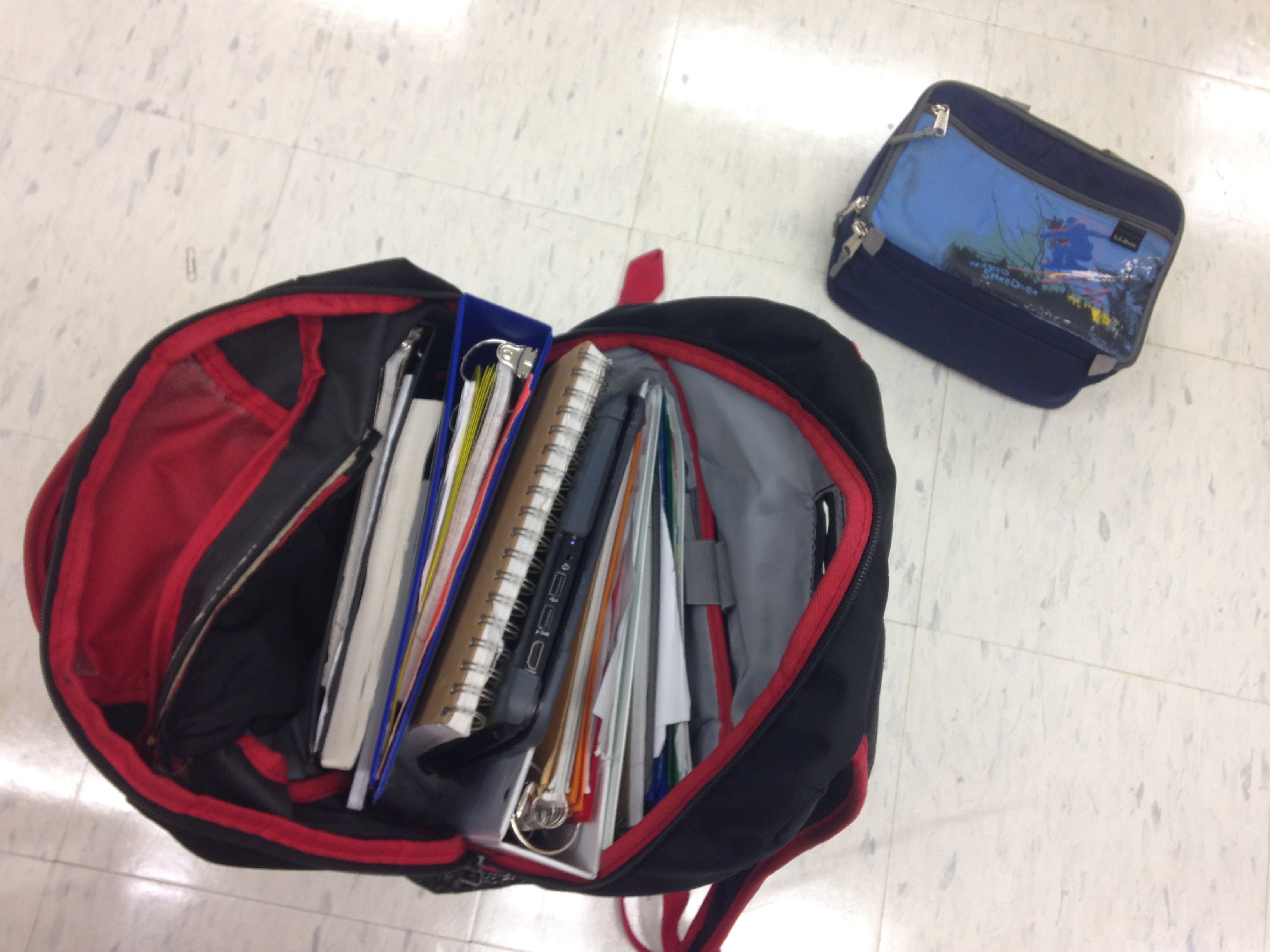 Many health guidelines suggest backpacks weigh no more than 10% – 15% of a student's body weight.  My son would need to gain about 100 pounds to justify the weight inside his backpack.  To add insult to injury – the backpack won't fit inside a locker. So, most students like my son carry a full backpack from class to class.
Now, call me crazy – but I have a problem with 25 pounds!! My son attends a school in their 4th year of a 1:1 program. Students keep their devices year-round. However, school supply lists we receive have barely changed.  Is each teacher aware of supplies other teachers are requiring and how they all add up? Have they re-thought supply lists now that they are 1:1? Do they monitor if students are even using supplies as designed?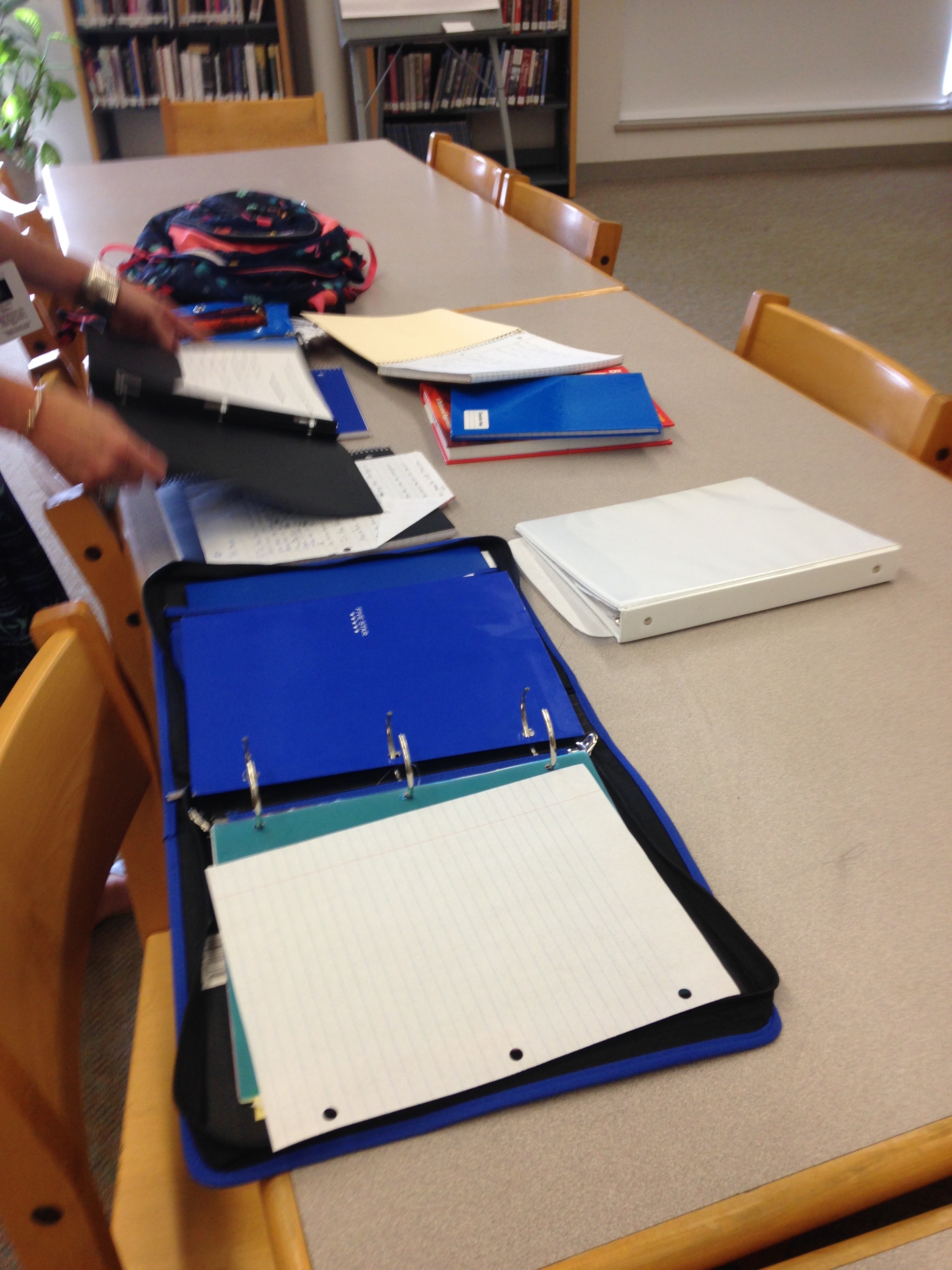 My curiosity led me to create a simple online survey to see if others' backpacks were heavy and to see if any of those students attend 1:1 schools.  With 71 respondents, I thought I would share the results as well as some suggestions for teachers looking to ease the back strain of their students.
Here are the backpacks for students in a 1:1 program where the device comes home with them. The average weight of a 1:1 device backpack was 18.17 lbs: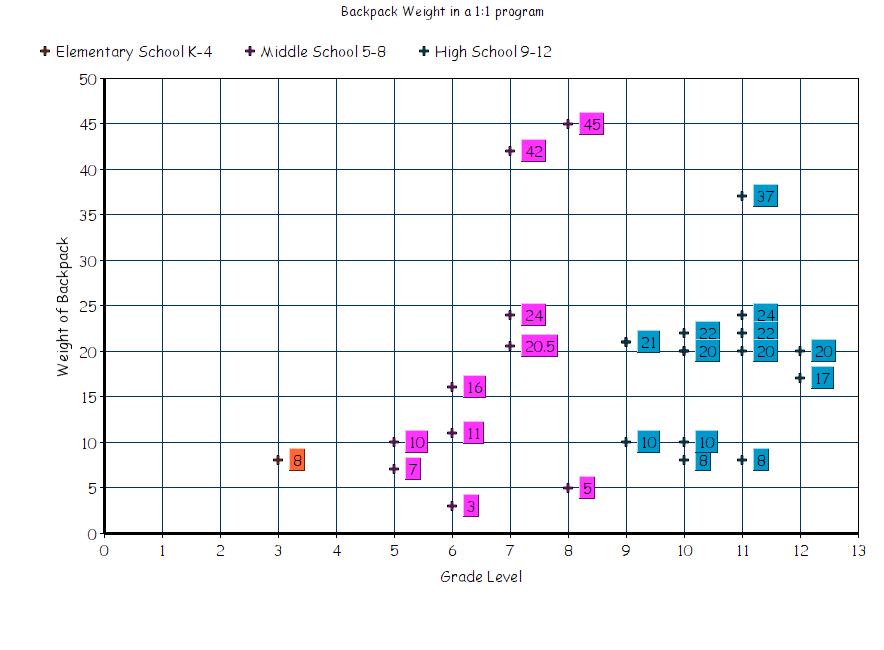 Here are the results for students not in a 1:1 program. The average weight of a non 1:1 backpack was 16.55 lbs (shouldn't they weigh more?!??):
Now, I'm not one to complain without offering a solution – so here are….
5 Ways to Lighten the Load for Students
To help teachers in (and out of) 1:1 programs consider ways in which to lighten the load for students, I offer the following suggestions:
Look at your List
As a teacher, has your school supply list changed over the past 5-10 years? Have you taken advantage of digital options? Even if you are not in a 1:1 program, consider digital ways for students to save their work. Or, find ways to provide handouts, slides and resources online.  Utilize storage space within the classroom for students to store paperwork you require them to keep. If you have always required a 3″ binder – will a smaller binder still suffice? Talk to other teachers on your team to see what they require. Can you combine forces so students can better manage their load?  (ie: A 5-subject notebook would be lighter and neater than one 3-subject notebook, two 1-subject notebooks and two reams of lined paper.)
Purge Papers
While a 3-inch binder can hold a year's-worth of paper, there is no need carry that around!! With one glance around my classroom, my office and my home, I know paper management is important. As teachers, we can help students learn when to save, scan, recycle or shred paperwork.  When each term ends, teach students to organize their digital and paper materials to stay organized. Save items that are essential, shred items with personal information, scan documents for reference later and recycle everything else.
Friendly Folders
Why require a 3-inch binder when a lighter, durable folder can serve the same purpose? My favorite folders are heavy-duty poly folders with three-prongs and pockets like THESE. They can hold sheet protectors to keep reference materials and there are pockets to hold papers for the term.  There is less impact on our environment and our wallets – plus they weigh SO much less!
Digital S'Mores
Every year, our kids celebrate the beginning of summer with a school work campfire, eating s'mores and laughing as their hard work turns to ash in our fire circle.  The only work we have saved are their "best" papers I scoffed from their backpacks and put in their baby box.  I have nothing that shows true growth during a school year because it all goes up in smoke.  My kids have no way of going back to find and review work from years' past.  Teaching students to create digital portfolios to pass on from year to year is a great way for students to reflect on learning, recognize growth, and set new goals.
Toss the Textbook
Are you still required to use certain textbooks in your class? If so, consider ways that don't involve lugging them from room to room or to and from school.  Explore digital alternatives. Are there more recent articles, news stories or resources online your students can reference at home?  If work from textbooks is truly your best, most engaging option, then leave textbooks in the classroom for classwork, and have students take photos with their devices if work is required at home. Or, find a way for students to keep the textbook at home, and look for alternatives within your room.
I am very aware of the many topics that can come from a discussion about 1:1 programs and how they are run.  This article strives to find ways to move in a positive direction. Teachers work hard to provide the best instruction possible to their students.  As the educational ecosystem changes, teaching practices should as well. Take this time to reflect on your past year and consider ways to lighten the load for your students come fall.
Come learn more about the benefits of digital portfolios and individualized learning in my upcoming summer workshops with EdTechTeacher in Boston this summer!! Learn more and register HERE!
Dream Big,

Save
Save
Save